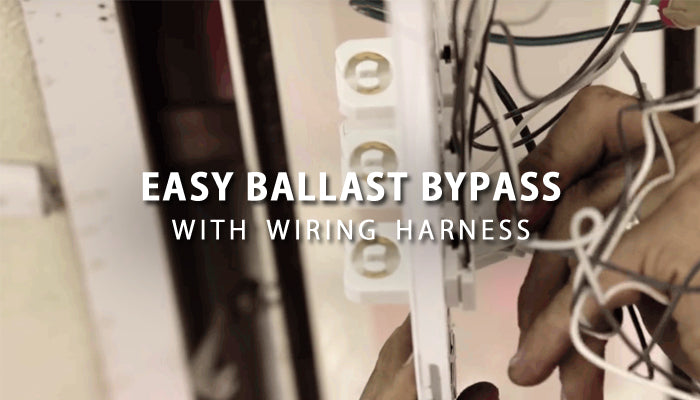 Easy Ballast Bypass with Wiring Harness
Designed specifically for ballast bypass, Keystone Technologies Power Quick Wiring Harness will save time and improve installation ease when retrofitting fluorescent tubes to LED. The innovative wiring harness is configured to replace 2 to 4 lamps. Check out how easy the wiring harness is to install and retrofit below. Watch the full video from Keystone, here.
1. Turn Off Power — Remember, safety first!
2. Remove Lens
3. Remove Lamps
4. Remove Ballast Cover
5. Cut Ballast Wires
6. Remove Existing Sockets
7. Install Keystone Wiring Harness Into Existing Socket Holders
8. Connect Hot & Neutral Power Wires To Quick Disconnect on Keystone Wiring Harness
9. Replace Ballast Cover
10. Apply Safety Label
11. Install Keystone T8 LED DirectDrive Lamps
12. Replace lens
13. Turn On Lights
If you have more questions regarding the Wiring Harness, or you would like to request a quote, please contact us at customerservice@lbclighting.com or call 626-279-2658.