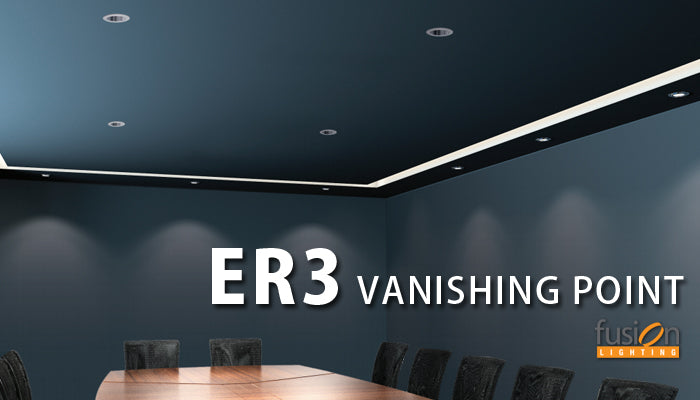 Fusion Lighting ER3 Vanishing Point
ER3 Vanishing Point from Fusion Lighting
ER3 Vanishing Point from Fusion Lighting is a downlight that offers endless customization for high end architectural commercial applications, retail stores, hospitality, and luxury residential applications.
The high performance downlight uses a universal housing that allows for quick changeable trims and complete tool-less aiming adjustability. Trims are available with flange or trim-less in both circle and square options. The trims blend seamlessly into the ceiling creating a sleek shadow free appearance.
ER3 also offers a wide range of LED Chip on board options allowing users to also customize lighting output. The High Performance series emits up to 2000 lumens, 90+ CRI, dimmable, and comes in a variety of color temperatures. Fusion ER3 also offers other series to provide specific solutions—Vibrant provides color specific solutions; Smart Hue offers full RGB+W; Smart White allows for color tuning without compromising light delivered; Smart Dimming is designed to mimic traditional incandescent dimming.
This all-in-one field changeable fixture provides down lighting, wall wash and accent lighting for damp and wet locations. Designed for new construction installation, the fixture is suitable for both IC and non-IC applications. ER3 is also Energy Star listed and Title 24 compliant.
Tool-less Aiming Adjustability
Any desirable beam angle, up to 45-degrees, is possible with ER3. The fixture allows easy field adjustment with a precision, Rigid Screw Lock System. The system is labeled with degree increments to help adjust each downlight to the exact beam angle. Once set, just lock the beam angle in place.
365-degree horizontal rotation is also possible with ER3. Simply rotate the light source along the slotted groove track system and lock into place using a mechanical pressure hand-lock latch. No other tools needed!
Trim Options
Open and Lensed – Round
Open and Lensed – Square
  
  
  
  
Trim
Trim-less
Trim
Trim-less
Open and Lensed – Round – Adjustable Accent
Open and Lensed – Round – Adjustable Accent
  
  
  
  
Trim
Trim-less
Trim
Trim-less
Pinhole – Round
Pinhole – Square
  
  
  
  
Trim
Trim-less
Trim
Trim-less
Slot – Round
All trim options are available in four (4) different color options:
  
  
White finish seamlessly transitions the trim into the ceiling.

Clear allows for maximum lumen delivery.

Satin Haze provides smooth glare free glow.

Black allows for the light source transition into the ceiling, making it barely visible.

Trim
Trim-less
---
Interested in purchasing the Fusion ER3? Please contact us.
Call: 626-279-2658
---