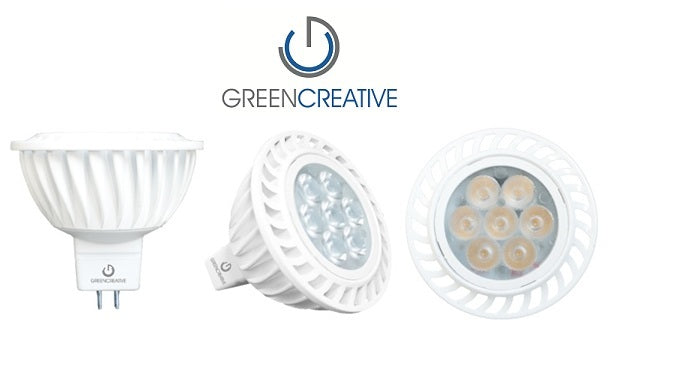 Green Creative at LBC Lighting
In less than a decade, Green Creative has firmly established itself within the world of high-performance LED lighting. Aiming to provide lighting solutions across a variety of industries, the company has greatly added to the sustainable lighting options on the market. Since 2010, they have been dedicated to developing and manufacturing LED lighting for various industries. In quality and adaptability, their fixtures suit retail and hospitality settings, as well as office and education settings. The success of their projects with retail giants such as Macy's, and an icon in the hospitality industry, the Westin St. Francis, highlights the combined effectiveness and versatility of Green Creative's fixtures.
The MR16 LED bulb series
As the central choice for their Macy's project, Green Creative's MR16 LED bulb series underscores their dedication to thoroughly functional lighting. The series aims to provide efficient halogen replacements across a range of wattages. All bulbs can fit a variety of commercial settings, as their high rated life and dimmable capabilities makes them adaptable for the long haul. However, for commercial settings demanding accurate color representation, the MR16 bulbs on the left are the best choice. As part of the CRISP LED series of MR16 bulbs, their CRI of 92 ensures excellent color rendering for retail settings. The MR16 bulbs on the right are similarly suited for commercial settings. Despite a slightly lower CRI of 82, these bulbs from the TITANIUM LED series effectively meet the demands of commercial settings.
The QWIKLINK series
Similarly innovating from existing fixtures, the QWIKLINK series provides an updated alternative to traditional strip lighting. Building from the consistency of strip lighting, the series enhances its performance through the QWIKLINK connection system. This innovative connection system allows seamless linking of various fixtures. In tandem with its occupancy sensing and dimming capabilities, the QWIKLINK series can adapt to the unique lighting needs of multiple settings. The range of available installation options – surface mount, pendant, suspended – highlight the flexibility of the series. With a CRI of 82 and 100,000 hour lifetime, installation of any QWIKLINK series fixture guarantees excellent, long-lasting lighting.