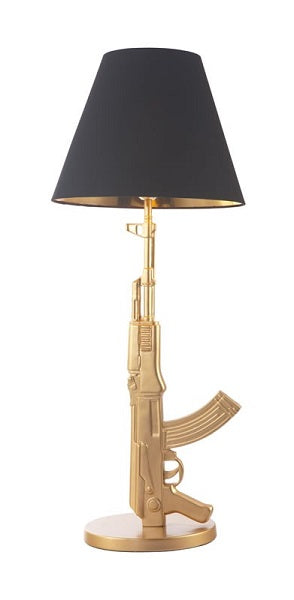 Introducing A New Zuo Modern Lighting Fixture – The Artemis Table Lamp
"All hands to battle stations with this defensive lamp."
Artemis Table Lamp – A Modern Lighting Fixture
The Artemis gun table lamp is a unique design by global brand, Zuo Modern. This striking table lamp immediately captures attention and inspires a bold decor. Ideal for customers who wish to make a statement and appreciate the aesthetic of such a strong lighting fixture. A redefined design that showcases weaponry in an unconsidered form. Inspires safety when placed in the bedroom providing direct reading and ambient lighting.
Materials
The Artemis table lamp base is poly-resin painted in a glossy gold finish and the shade is black fabric. A UL Listed fixture with the bulb sold separately.
About Zuo Modern
Zuo Modern is about fresh designs and fresh styles which explodes from their current product lines! Zuo Modern has various new shapes and textures to excite their customers. Their lighting explores the retro as well as the modern, and their furniture brings new levels of affordability. More than ever, Zuo Modern wants to offer customers bold looks that can fit in any space and any application. The brand is proud to stock and sell cool and funky products that are unique to the market. Kick off your year with reliable best-sellers and new collections!
Zuo Modern Contemporary, Inc. is a California based corporation with office and warehouse locations in California and Florida. International offices and warehouses also located in Canada, Mexico and China. Zuo Modern has several collections that express the Zuo style and brand. With additions in lighting and accents, Zuo is expanding their newest and most popular category. Whether modern or industrial, their lighting represents a focal point in design for any space. Their latest accent pieces give customers even more choices in expanding their Zuo look. Light up your year with the Zuo collection!
View our full selection of Zuo Modern fixtures by clicking HERE and click HERE for more information on the Artemis table lamp.