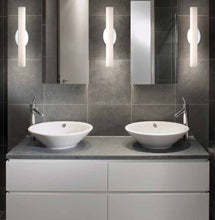 Introducing: Modern Forms
LBCLighting is pleased to introduce Modern Forms, a premier brand of LED luminaires that provide dynamic lighting solutions for the modern space. Modern Forms, a subset of WAC Lighting, offers a wide selection of pendants, ceiling lights, wall lights, bath vanities and outdoor lighting that is affordable. Their sleek and modern design make it a seamless fit into any contemporary decor.
See below for a highlight of their most popular styles.
Ethereal 
Capturing your imagination and fulfilling dreams, this striking pendant appears lighter than its volume implies. Designed with mouth blown clear glass and an intricately detailed Piastra glass insert that illuminates with energy efficient LEDs for beautiful ambience.
I AM BEAUTIFUL. I AM AWESOME. I AM SEXY. I AM PROFICIENT. I AM WHIMSICAL. I AM DESIGN. I AM CONVERSATIONAL.
Glacier 
The brilliance of frozen ice. LEDs sparkle and shimmer mesmerizingly through weighty blocks of Piastra glass. One, two, three and four light configurations are offered for luxury baths and powder rooms all available with the ultimate range of dimming controllability.
I AM CLEVER. I AM ENGINEERED. I AM PASSIONATE. I AM FUTURE FORWARD. I AM UNIQUE. I AM INTERESTING. I AM CONSIDERATE.
Deco
The simple design of Deco provides refuge in a complex world. Clean and understated with a clear outer layer of glass encasing an etched white opal glass shade, this upscale luminaire illuminates fine exteriors and interiors of transitional and contemporary spaces.
I AM COURAGEOUS. I AM INNOVATIVE. I AM AMAZING. I AM INGENIOUS. I AM A REBEL. I AM ATTRACTIVE. I AM RESPONSIBLE.
I AM LED
View the full selection of Modern Form fixtures here.