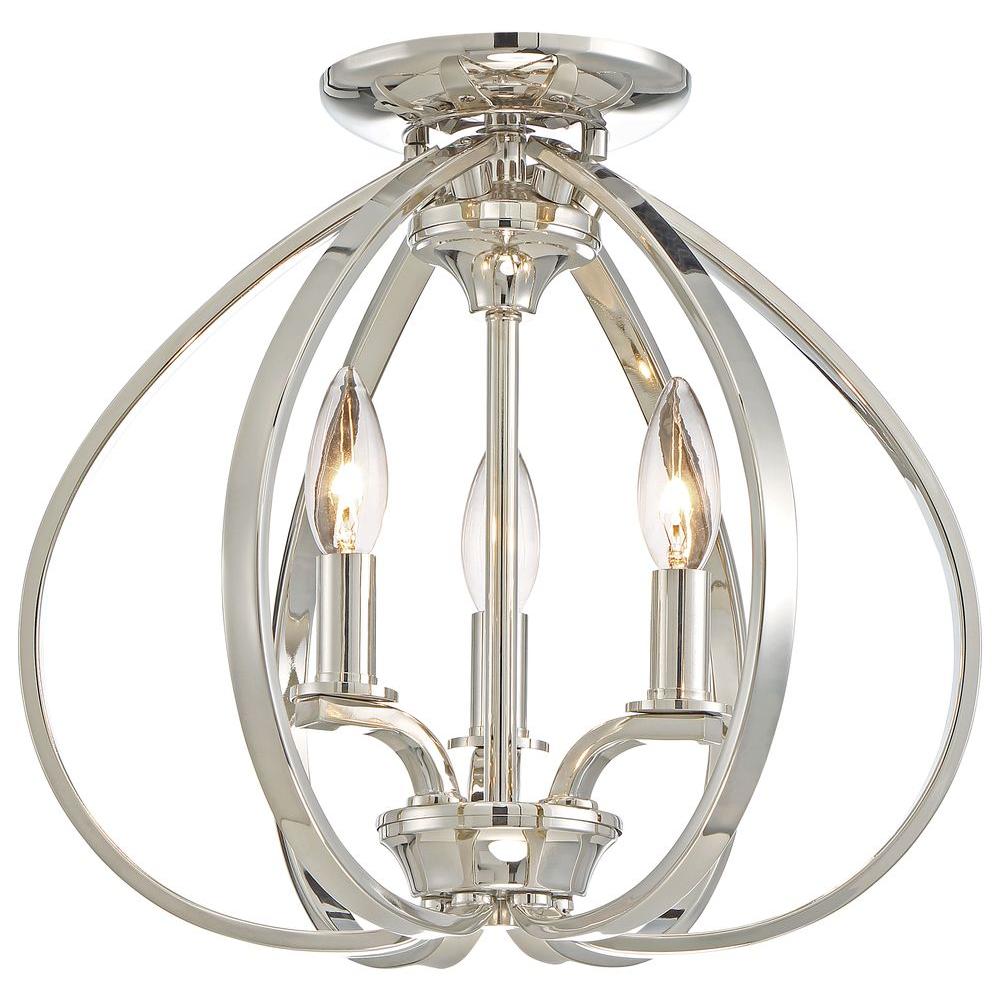 Modern Upgrades for Flushmounts
In spaces with standard or low ceilings, the standard lighting choice is generally restricted to flushmount and semi-flushmount lighting, due to its utility in a limited space. However, there remain many options within flushmount and semi-flushmount lighting fixtures that meet the lighting needs of a space while enhancing the style and look of a room. With options ranging from minimal styles to more modern and eye-catching designs, choosing to upgrade your flushmount and semi-flushmount lighting can be a simple yet effective way to improve the look of a given space.
Minimalist Options
For spaces requiring general lighting, minimal lighting fixtures can contribute to an overall sleek and simple style. Hallways and foyers, though often not the focal points of a space, merit an upgrade in order to update the look of a room and take advantage of the benefits of LED technology. Many of the options suited for hallways or foyers fulfill dual purposes, as they can efficiently light a space and provide dimming capabilities made more effective through the use of LED. The options below, while simple in design, remain visually appealing through their use of clean lines and, in some cases, can provide a subtle modern touch to a space.
Tech-Cirque
Kuzco-Covina
wac-blo
In larger spaces where direct lighting is needed, such as a kitchen or study, fixtures covering a broader area can add a similarly sleek and minimalist look to a space. Options such as the ones below can also serve well within a retail setting aiming to create a modern yet functional style within a space.
eglo-idun-93776
eglo-idun-application
wynter-linear-wall
Modern Options
Living rooms and dining rooms often serve to showcase the overall style of a space, making the right lighting choice key to create a harmonious style within a room. To create a more modern style, there are a variety of lighting options available to choose from, ranging from more subtle styles to ones using bold lines and colors. For spaces aiming for an understated yet fresh look, LBL Lighting has several options that showcase detailed workmanship. The FM968 Lania Flush Mount is one such option, as its unique honeycomb pattern is sure to draw the eye.
To create a more dynamic style within space, lighting fixtures that make use of bold lines or color, such as the options below, can enhance the modern feel of a room and be a simple way to add a visually pleasing focal point to a space.
access-aviator
quoizel-ribbons
leucos-minigio-two-e1502398895324
zaneen-tourbillon
Modern Meets Classic
In spite of the restrictions of ceiling height, it is possible to achieve the classic look of a chandelier-style fixture with semi-flush mount fixtures. The comparatively greater height of these fixtures can make them more visually impressive while still fitting well in a space with a standard or low ceiling. Whether you're looking for a style echoing the simple lines of a chandelier or one with a more contemporary feel, there is a wide spectrum of options to choose from. Including an option such as those pictured below can be an easy way to add an elegant touch to any living room, dining room or foyer.
Along with upgrading the style of a space, many of these choices use LED technology and dimming capabilities, which allows for more control over the feel of a space. The complex detail and contemporary feel of other options can effectively tie together a dining room or living room with an elegant, yet modern style.