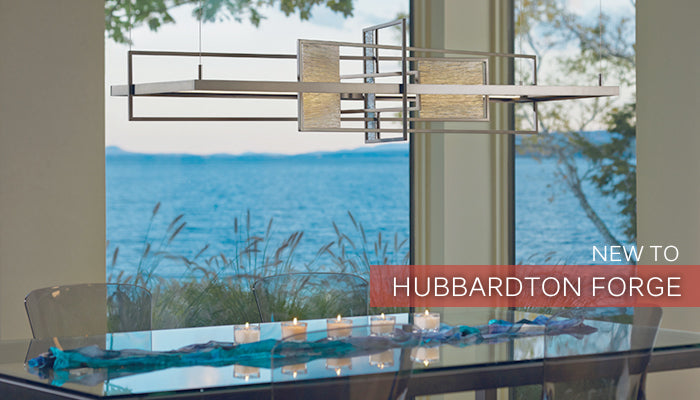 New To Hubbardton Forge 2016
Gloss White Opaque Finish
The latest addition to the Hubbardton Forge Finishes family adds a sleek and modern touch to the hand crafted metal work. Bright, clean, and striking, the gloss white opaque finish illuminates the space and accentuates smooth, refined lines of the fixture. The finish is now available on a number of Hubbardton Forge pendants, including some of their most iconic—Cirque and Corona.
Four Seasons Collection
The Four Seasons Collection by Hubbardton Forge consists of four uniquely designed pendants that encapsulate the essence of each season.
Spring LED Pendant
Inspired by raindrops cascading down a trellis, each glass droplet, resembling a "raindrop", captures light and emits sparkle—creating eye-catching illumination. Each glass "raindrop" is created by Vermont native artisans.
Summer LED Pendant
The geometric, rectilinear lines of the Summer Pendant are inspired by box kites soaring through the sun filled sky on a breezy summer day. The textured panes are available as clear glass or aluminum finished in soft gold or vintage platinum.
Autumn LED Pendant
The hand-forged leaves on the Autumn Pendant are the most traditional design within the Four Seasons Collection. It is also the most graphically stylized in design, with obvious notable attributes of autumn grasped at first glance—falling leaves gracefully drifting in the breeze.
Winter LED Pendant
The Winter Pendant is the most contemporary fixture of the four pieces. Inspired by snowfall, the fixture features multifaceted polished aluminum "snowflakes" that create a dramatic display of light and shadows.
Otto Collection
Black. Brass. Bold. The Otto Collection showcases five uniquely designed fixtures with steampunk aesthetic. Gaining much favoritism within with Hubbardton Forge family itself, the Otto Collection is definitely a contender for those looking for industrial styled fixtures.