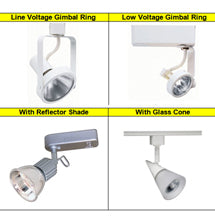 Styles of Track Lighting
Track lighting is a versatile and economical option for many lighting applications requiring general lighting and accent lighting. With so many track fixture styles, you may find yourself overwhelmed so we created the following guide to help you. But remember that ultimately, the choice is up to you and your personal preference.
Please make sure that you choose a track fixture that is compatible with your track system. For more info, you can view our Track Lighting Basics.
If you want:
A Classic Look: We recommend Round Backs, Flat Backs, or Stepped Styles. These are usually line voltage and can accommodate a variety of bulbs from A-lamps to PARs.
Easy Maintenance: We would recommend Gimbal Ring styles. Some gimbal rings are front-loading which allows easy relamping. Offered in low voltage and line voltage options.
Versatile: We would recommend Universal Adapters. These are basically just sockets that allow you to screw the bulb in. They are versatile since they can accommodate a variety of bulbs from PAR20s, PAR30s and PAR38s, allowing you to change at a whim.
Without the constraints of an outer frame, they are also a great retrofit option for LED bulbs and compact fluorescent bulbs (which are sometimes not the exact size of their halogen/incandescent equivalent).
Low Profile:  We recommend low voltage fixtures or line voltage MR16 GU10 fixtures. Since these utilize an MR16 bulb (only 2 inches diameter), they are usually smaller than the standard track lighting heads that use A or PAR bulbs.
Decorative: There are a variety of decorative styled track heads that can complement or match your existing decor such as options with glass shades or disks.
Energy Efficient: We would recommend using LED track lights or retrofit existing fixtures with LED or CFL bulbs. These use less wattage to operate and give off less heat than their incandescent/halogen counterparts which saves on your air conditioning bill as well.
View our selection of LED Track Lights here: http://www.lbclighting.com/track-lighting/track-heads/led-track-heads.html
Specialty Applications: There are a variety of track lighting fixtures for specialty applications such as framing projectors for display, wall washers for flood lighting and barn door fixtures for photography applications.
View our selection of Specialty Track Heads here: http://www.lbclighting.com/track-lighting/track-heads/specialty-track-heads.html
If you need further assistance with track lighting, please don't hesitate to contact us at customerservice@lbclighting.com or call 877-250-6888.